Our world is the reflection of light, its playground. At the core of art is the expression of these luminous revelations, and it is within nature that their most perfect demonstrations are unveiled.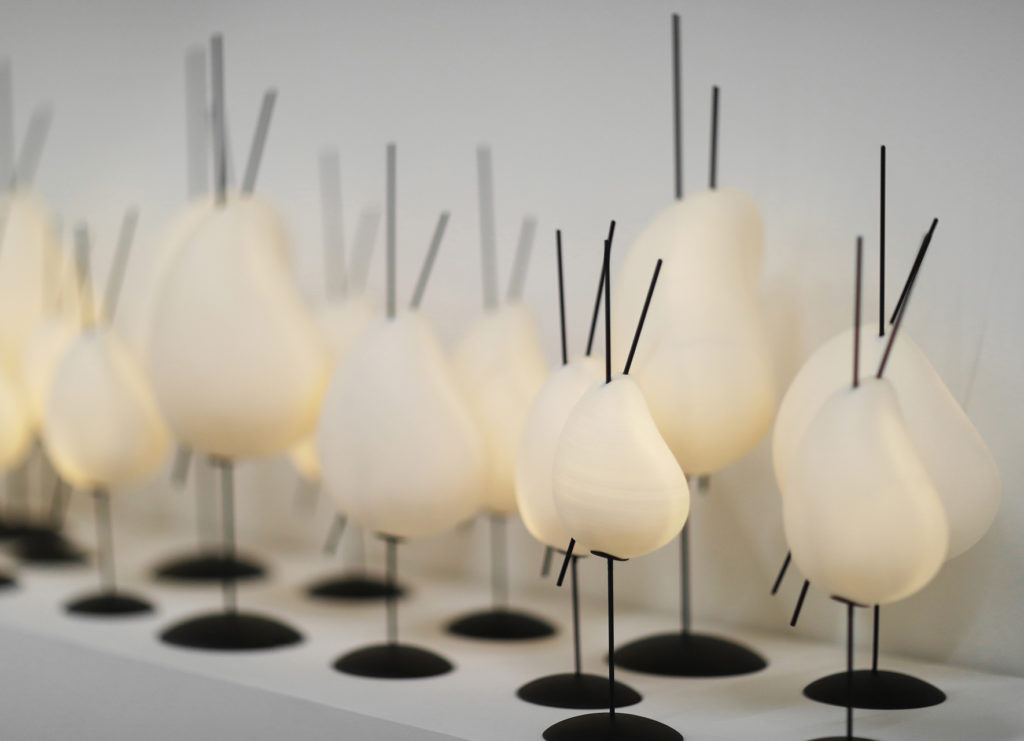 How can we grasp the subtleties of natural light, when the materials that clutter our world are hostile to natural light? Digital screens trapping the eye, blinking signs, all prevent us from the simple contemplation of time daily expression, from days to seasons. Patiently, YMER&MALTA designs furniture and art objects as permanent manifestations of a fleeting atmosphere. The observation of light movements on materials leads to tirelessly design, draw, make, do and redo, until reaching a natural balance. When light turns into material, only the elements can be its witnesses.
Paper lamps: an ethereal expression of light
Suspended for a while, the light is softened by the balance of a shadow, creating a peaceful shelter. By its name and its shape, Poise is the embodiment of a soothing interval, a meditative aspiration to lightness. In order to let light into the house, YMER&MALTA played on the countless translucent variations of paper, able to filter light, to express its modulations as would a cloud or mist do.
As a counterweight sealing the bond uniting light to our world, a lead trapezium marks the solid and immutable terrestrial axis. By opposing contraries – black and white, light and heavy – Poise reaches the perfect balance of light shaped by shadow, of matter shaped by time. A tribute to Isamu Noguchi takes shape in the aspiration to seize what is ephemeral. As it is impossible to sculpt light, it is then necessary to attentively and humbly regard what part of itself light is willing to show us. Through matter, what is impalpable must be tamed. Thereby, the Akari Unfolded collection is declined in a range of lamps: a table lamp, floor lamp, pendant and ceiling lamp. In each room, space and light reach the perfect balance.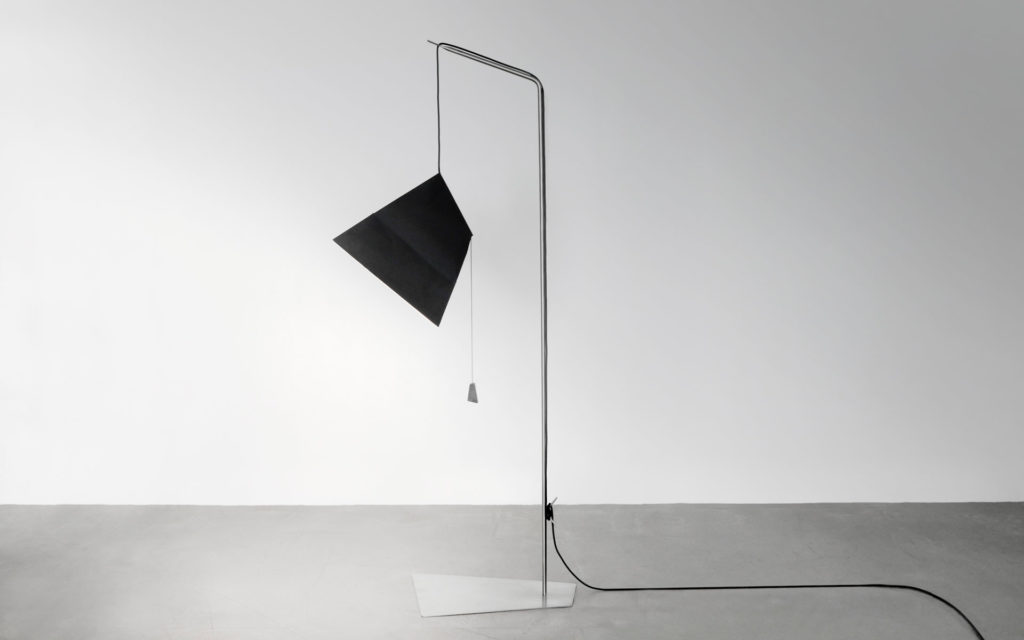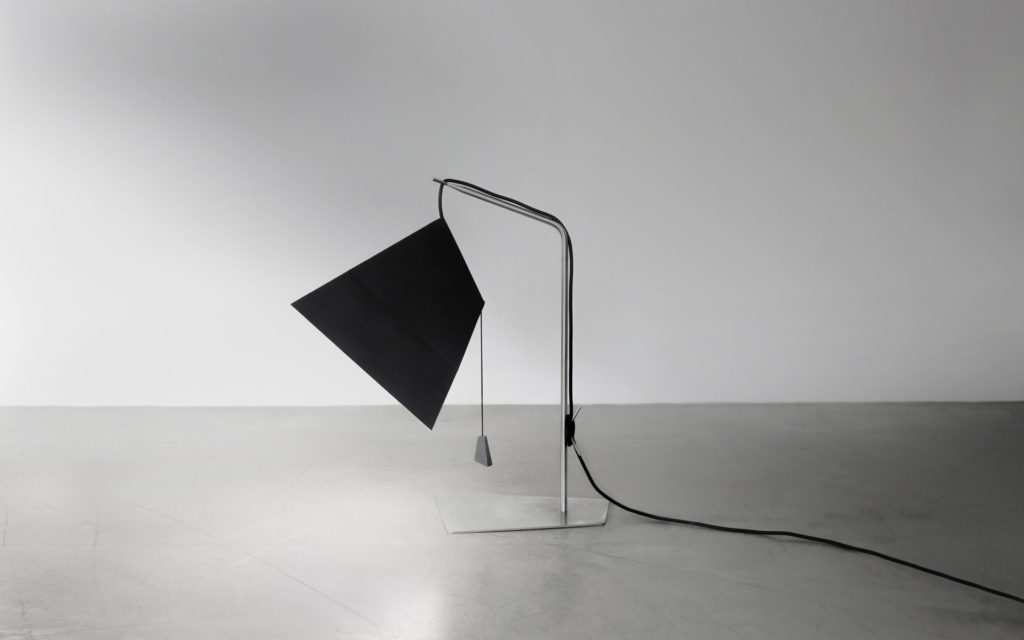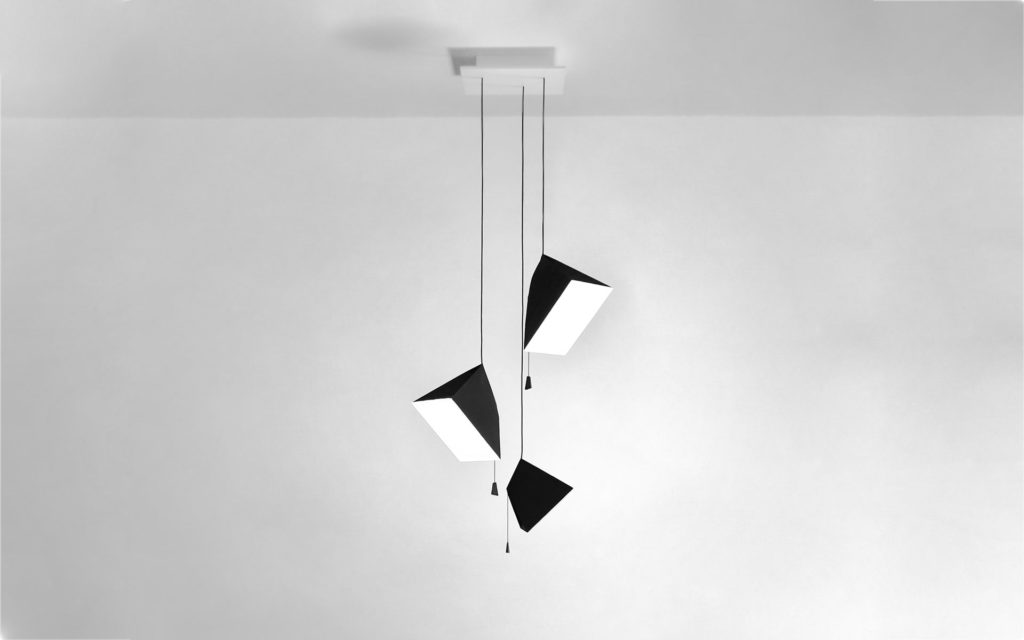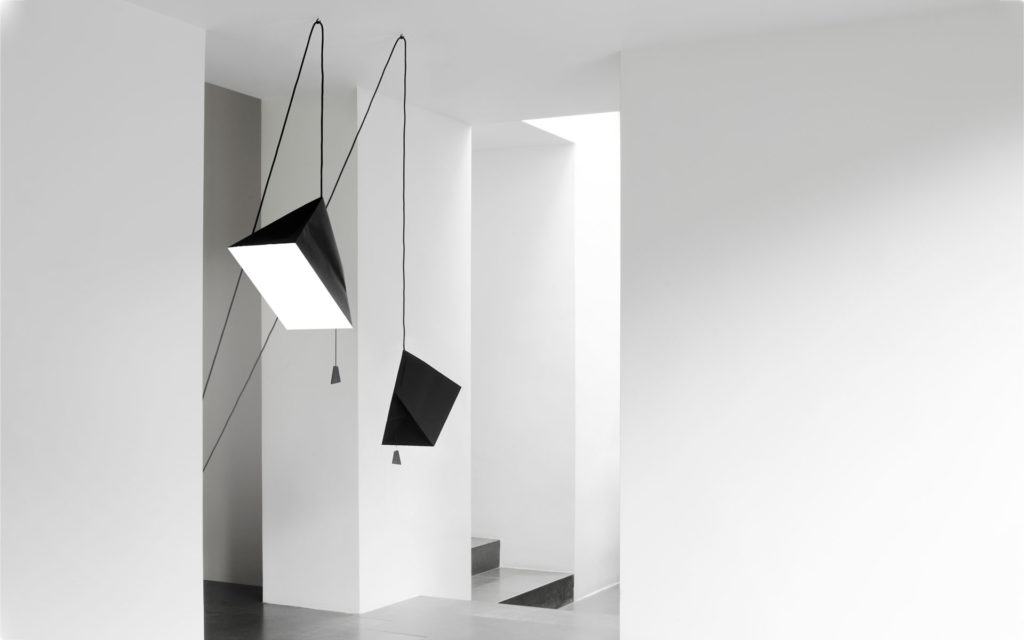 Biscuit porcelain lamp: light as a covered fire
Belle de Nuit is soft and delicate, animated by a mellow warmth, like a candle which would manage to absorb, without putting it out, the flame that gives it life. An ancient feeling comes up by the side of this soft and comforting ball of light. The choice of biscuit porcelain, with its thin and translucent grain, reawakens the distant memory of fire as the primal source of light. The same fire which slowly baked the biscuit of Belle de Nuit. YMER&MALTA wanted this lamp to be mobile, in order to be reassuring: when night falls, it follows its owner wherever she or he goes. To carry light in the dark, from one place to another, is a victory as fragile as biscuit porcelain is. Substance turns into light, but when daylight resurfaces, natural light takes its rights back. Belle de Nuit turns off, and stays quiet, like a pebble on a beach.
Glass lamps: light in a water drop
Beading under the first rays of light, dew becomes light's liquid mirror, mist condenses under the rising sun heat, and the colours of dawn are offered to our sight. Distorted from its initial use, the optical glass (borosilicate) used for morningMist materialises crystal-clear pouring light. All the dazzling possibilities of nature's colours are sprouting in this gleaming dawning. At dusk, when natural light slowly fades away, night dew beads again, like a jewel. YMER&MALTA grasps the ingenuous coolness of the daily awakening of the world. Light isn't blocked anymore; nature isn't mushed any more. At last, glass expresses the purest essence of light: revealing the substance nature is made of.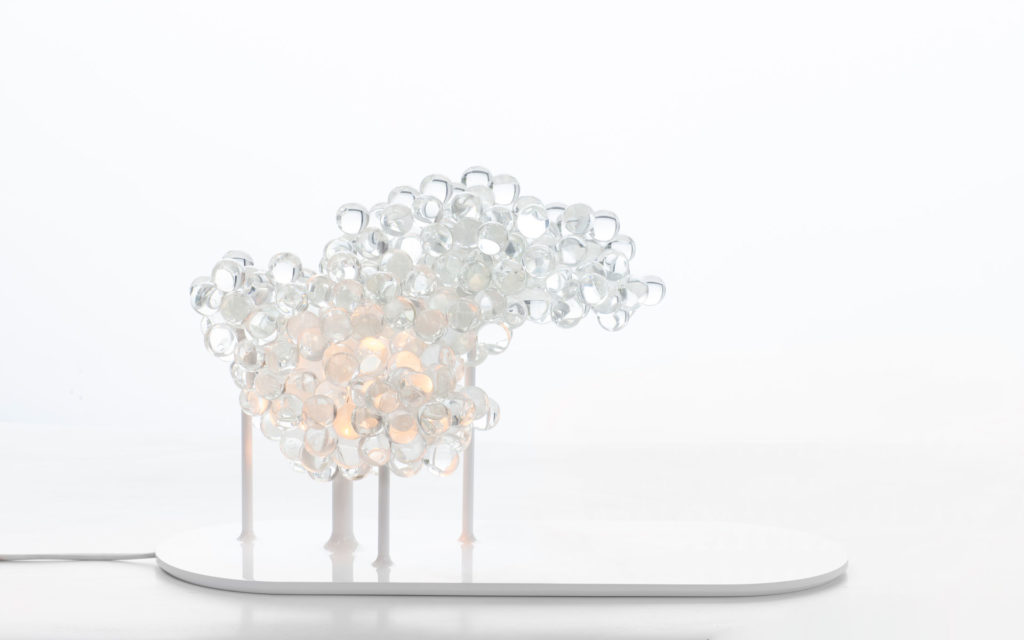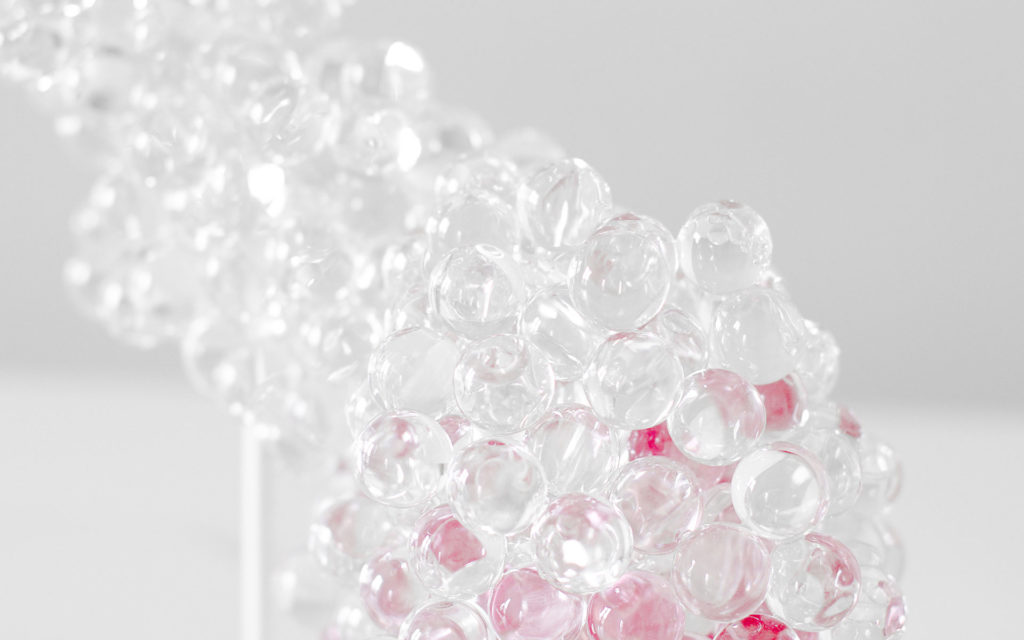 Under the pebble, light: sand lamps
It is a sculptural lamp, an object of contemplation, as are pebbles scattered on a beach. Sometimes wiped out by the waves, sometimes resting far from the sea foam, sand sculpts in each pebble unique prints, only to be revealed by daylight, playing on the granite surface. In order to accurately transcribe the surface of stone, YMER&MALTA developed a new composite material. Layers of sand, resin and thin glass fibres, slowly put on top of each other in a rotomoulding process, which randomly dispatches the grains of sand. Perfectly smooth, erected with a kind of purified permanency, the galets are revealed under daylight. Their appearance changes as the day goes by, details reveal their roundness, and, once lit on, they look as if they are curling up in a velvety sunset. Materialised light is unique, each grain of sand has found where it belonged. Then, pebbles may appear as the first sculpture ever made.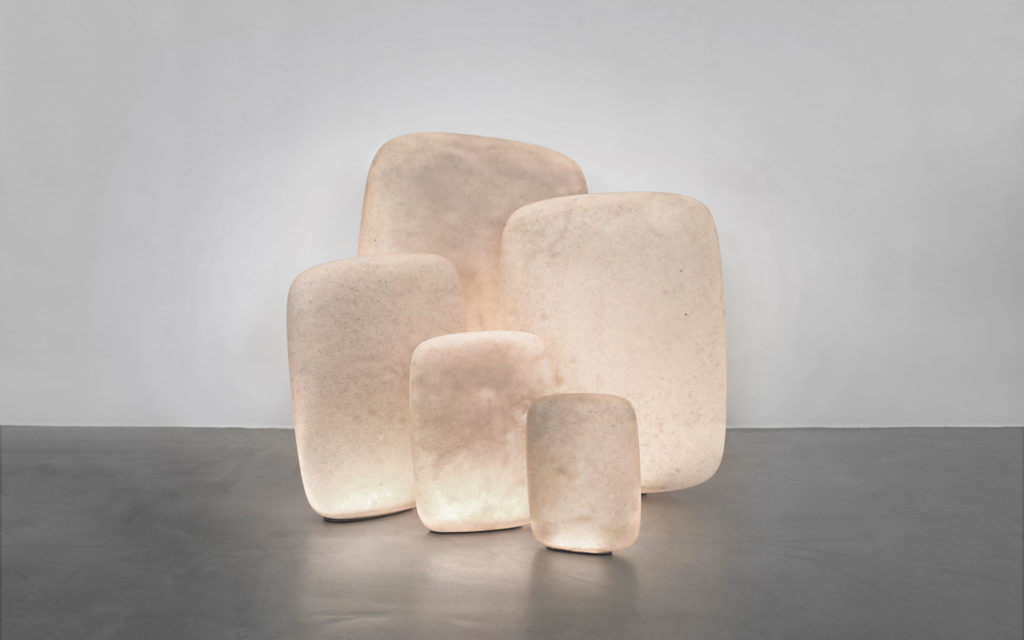 All these artworks aroused interest and recognition of several institutions, which either displayed or acquired them for their collections :
Belle de Nuit, YMER&MALTA / Océane Delain, Akari Unfolded: A Collection from YMER&MALTA, The Noguchi Museum, New York / US, 2018 / 2019
morningMist, YMER&MALTA / Benjamin Graindorge, Morning Mist Collection, Acquired by the CNAP (Centre Nationale des Arts Plastiques), Paris / France, 2012 and by the Institut Culturel Bernard Magrez, Bordeaux / France, 2011