The paper used by Isamu Noguchi for his lamps reveals the humble beauty of an ancestral Japanese craft. As a tribute to washi paper, YMER&MALTA created a composite material made of French flax, with its unique veins, looking like mineral ones.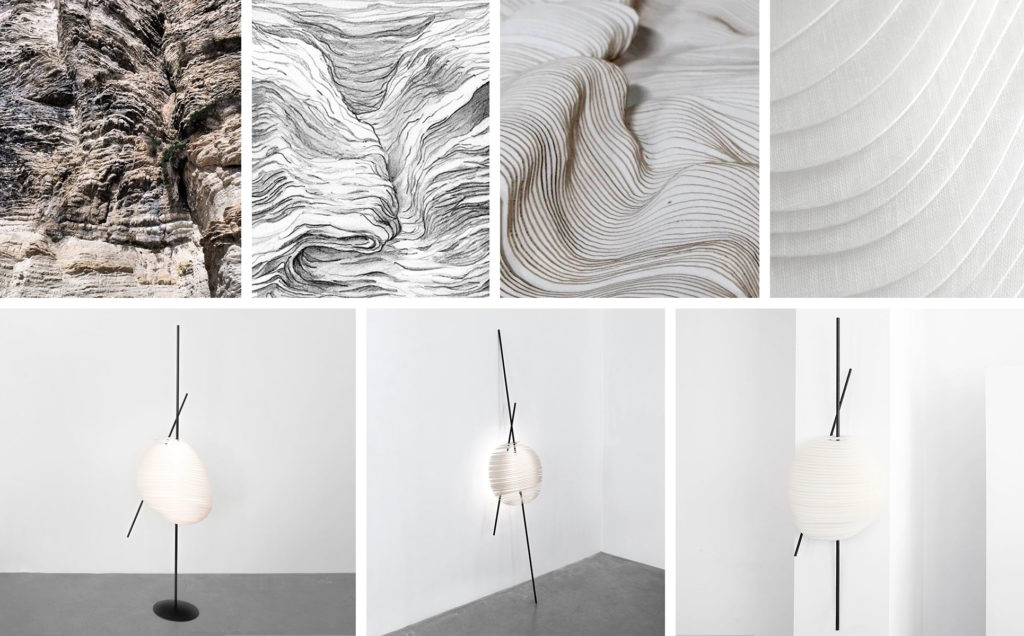 On the shores of Bonifacio, high bright cliffs stand, bathing in sunlight and shimmering water. For those who come closer, natural arches are revealed: strata which are somewhere chiselled, somewhere polished by time. This impressive mineral mass overlooks with gracious lightness Corsica's cerulean waters.
By sketching out the outlines of Belle de Jour, YMER&MALTA called on both the smooth memory of the Latin island and a more intimate one, the memory of Isamu Naguchi's Akari lamps – and this, still at the discretion of French savoir-faire.
Innovating: a composite material made of French flax
The bluish memory of flax fields aroused the desire for a tribute to washi paper, through the roads of Normandy. If the kanji shi designates paper as harmonious, peaceful and Japanese – three homonyms, wa – then French flax had the potential for an unexpected ambition. To make up for mulberry tree, a new material made of hardened flax was developed in YMER&MALTA's studio, shaping the soul of the lamp and of its diffuser at the same time. This innovative flax takes up both the role of washi paper and of bamboo as the structure of Japanese lanterns.
To the attentive eye, the velvety Japanese washi paper unveils a vegetal landscape, veined by mulberry fibres. On the flax surface, these are undulating threads, such as thin corals, swaying with the swell. On top of each other in a perfect balance, layers of fabric sculpt Belle de Jour, a soft shape, a luminous landscape with shadows formed by its volume. A totally different personality is revealed for those who comes closer. As for Corsican cliffs, Belle de Jour hides secrets: under the appearance of sturdiness, light conceals a delicate and chiselled accumulation of thin strata of petrified cloth. Belle de Jour plays on duality. Both by day and by night, as the "belles" Akari, made of washi paper.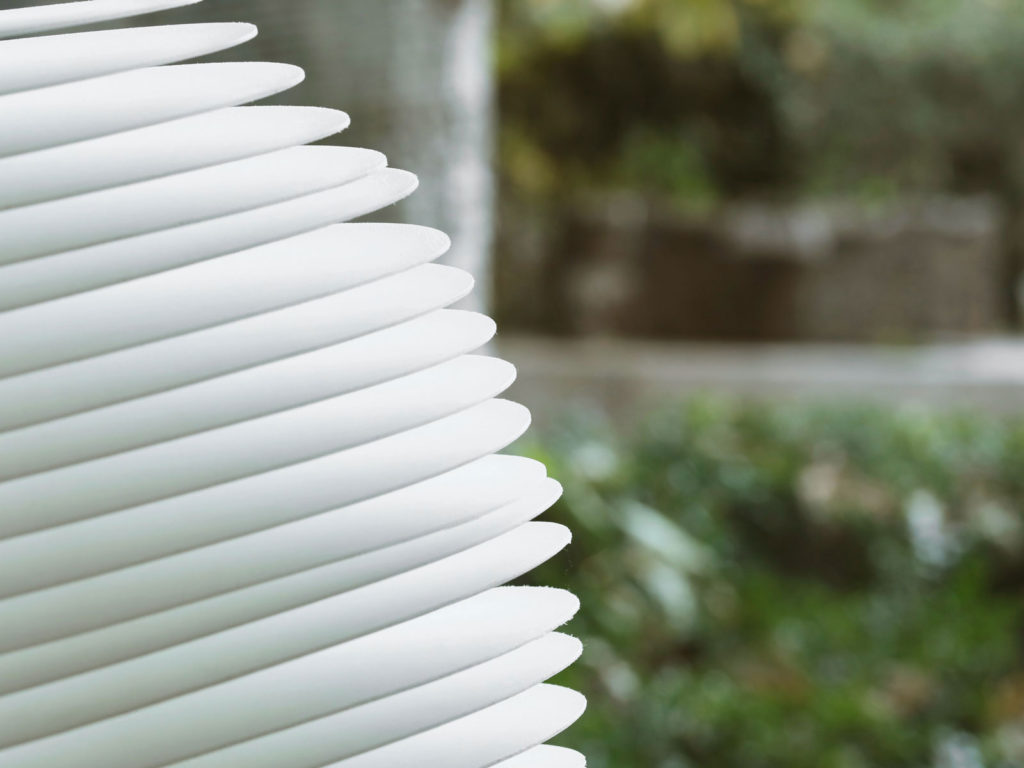 From Belle de Jour to Belle de Nuit, from flax to biscuit porcelain
Belle de jour required a year of sketches, a year of outlines and maquettes, until reaching the perfect shape. Then Océane Delain, designer, modelled a reduced scale lamp prototype, to make sure that the proportions were right before the first pieces were made. Then, from this maquette, a small, soft and charming pebble emerged. A little stone that Valérie Maltaverne, head of the studio, got immediately the urge to take everywhere.
Thereby, Belle de Nuit was born. This little lamp, a fragile prequel, is not made of paper or flax, nor of washi, it is made of biscuit porcelain. To YMER&MALTA, the opportunity to create a bridge between tradition and modernity was too beautiful. Two moulds made the print for the little 3D-printed maquettes. One is polished, the other is spared and keeps the strata of the repeated printing process. Porcelain Belle de Nuit is then available in two versions. This little travelling lamp poetically echoes both flax when it wraps itself with ridges, and washi paper when its surface is polished.
Such as the Akari lamps which have inspired them, a range of Belle de Jour is available: floor lamps and wall lights. When they are nomad lamps, they stroll besides the Belle de Nuit, faithfully following their owner, like a soft and comforting presence once the night has fallen.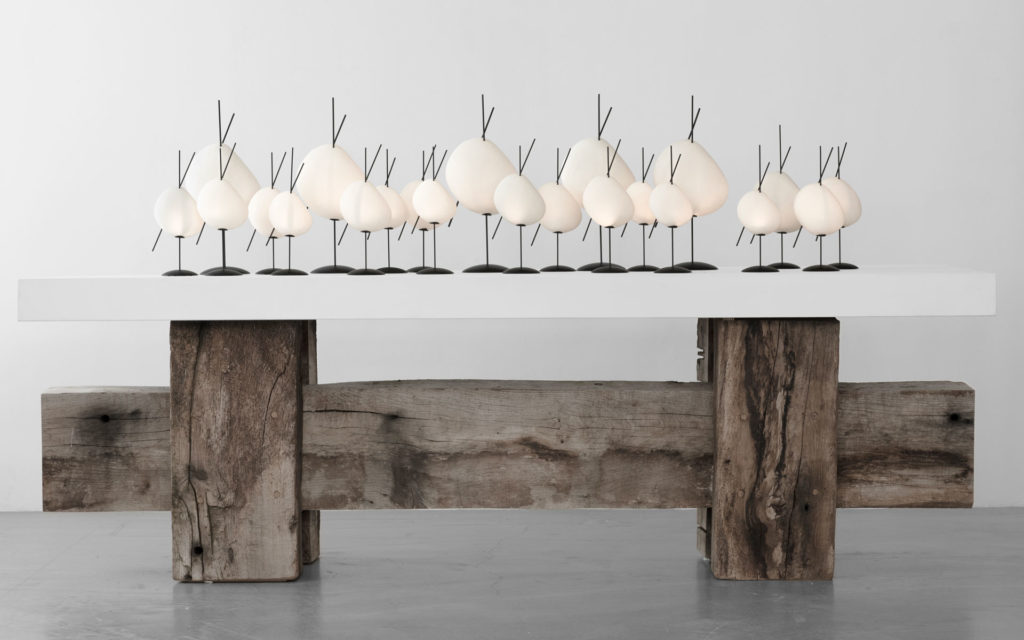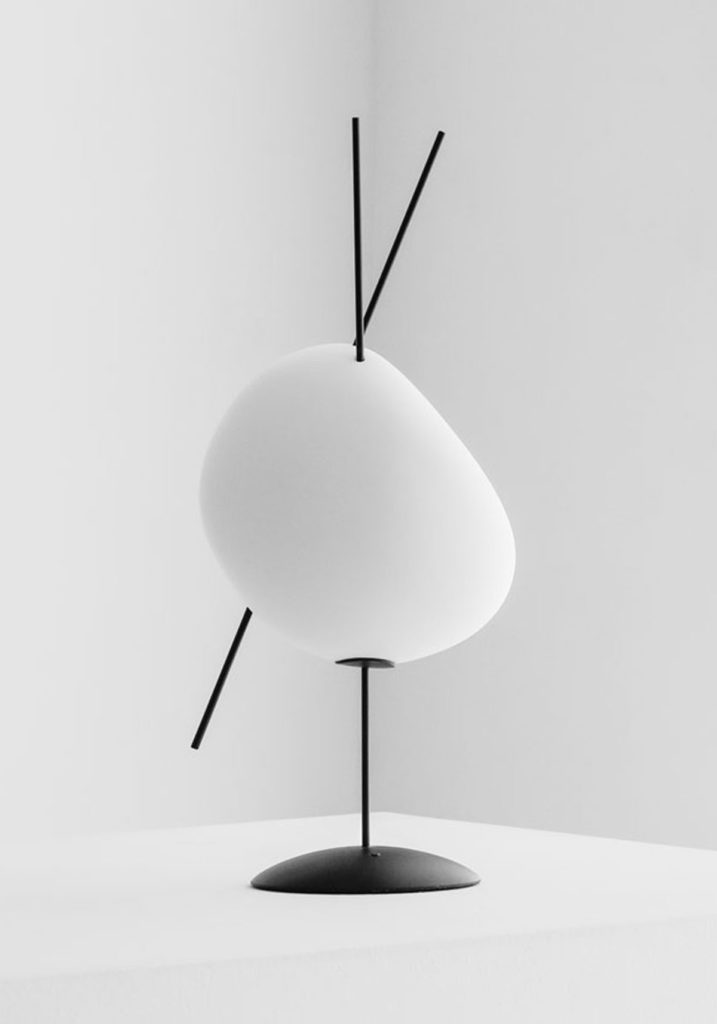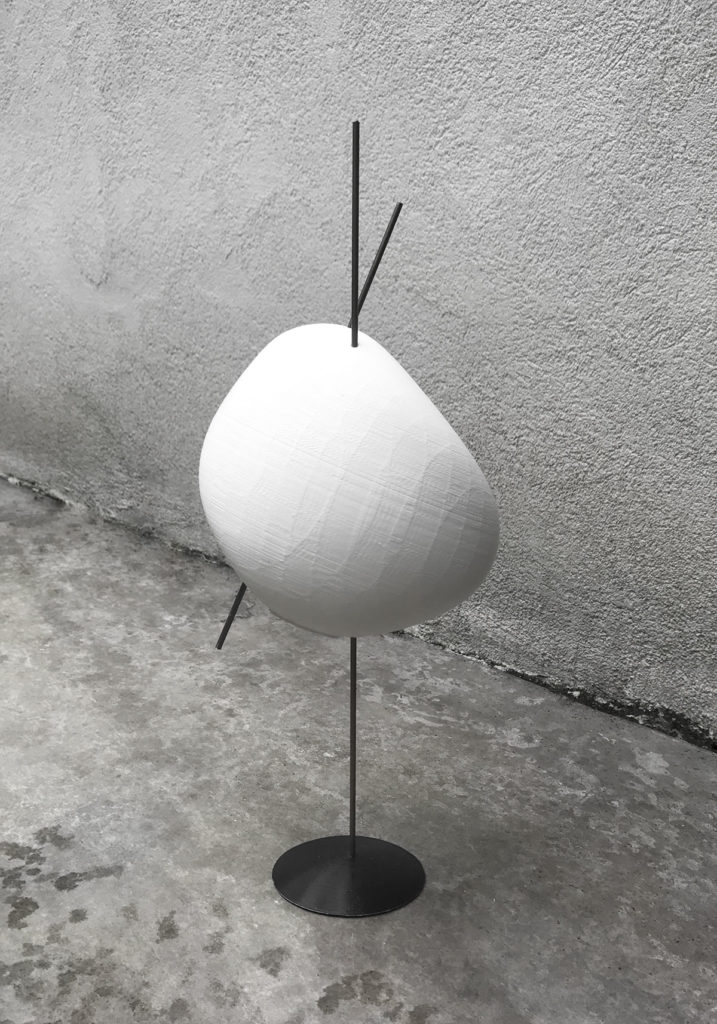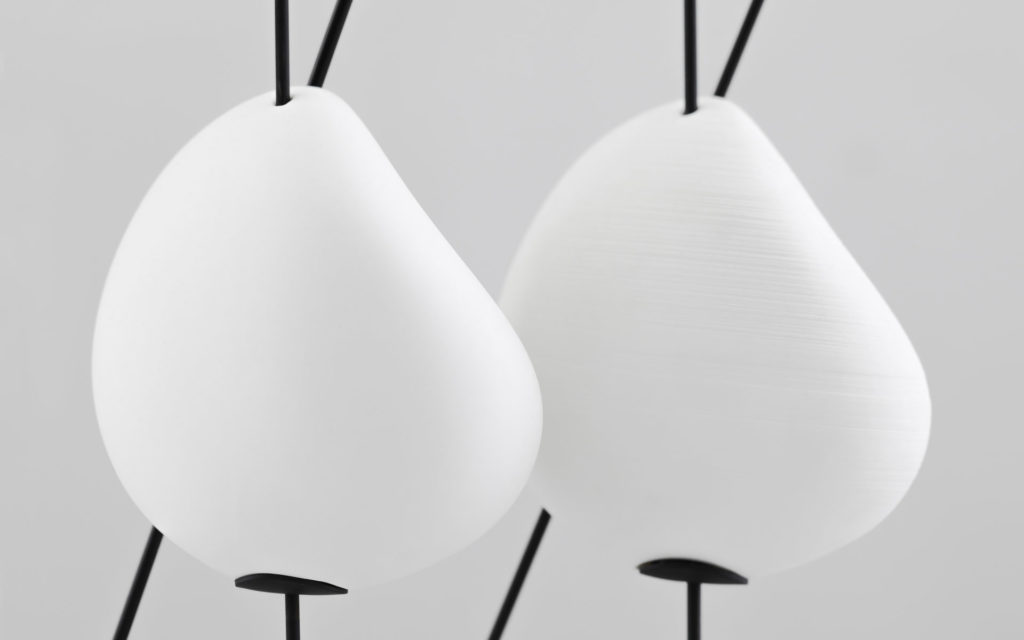 Disclosed at the Noguchi Museum of New York, on the occasion of the Akari Unfolded exhibition, these creations embody the patient continuity of the dialogue between the arts, the slow perfection of gesture and matter until the true realization of luxury.
Exploring Japanese traditions to reveal French savoir-faire, giving off a slowly sculpted light by magnifying its asperities, is reaching balance by exploring opposites. Belle de Jour and Belle de Nuit lamps, either made of fabric or biscuit porcelain, explore the expressions of light. Diurnal sculpture or nocturnal landscapes, each of them is the unique print of light on matter, the unique print of hands on craft.