The fruit of a collaboration between Valérie Maltaverne, founder and artistic director of the YMER&MALTA studio, and designer Benjamin Graindorge, the fallenTree bench explores the relationship between humans and nature. The concept of time is evoked in the fall of the tree.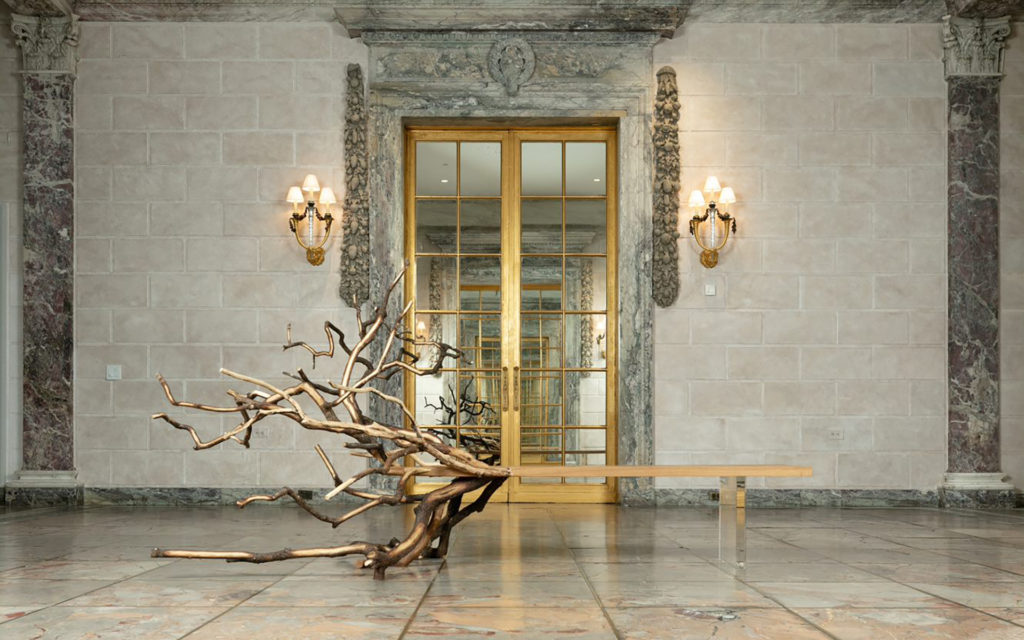 How many years until the tree reaches even the roots of the sky? How many hours to reduce it to planks? How many days before it is reborn in a new form?How long await before someone comes to sit upon it and meditate, ad infinitum, on the cycle of life?
Reacting to a society embroiled in speed mania, Valérie Maltaverne and Benjamin Graindorge stand up against the mad race for consumption and profit. They create at the speed of life, at the speed of humans and their environment. In the tradition of William Morris's Arts and Crafts movement, they seek to combine technological innovation with expertise, nobility of materials with the poetry of technique. The oak for fallenTree was chosen in the forest, with care, and in good conscience, then taken to a carpenter, who shaped it artfully, in accordance with the best principles of his craft.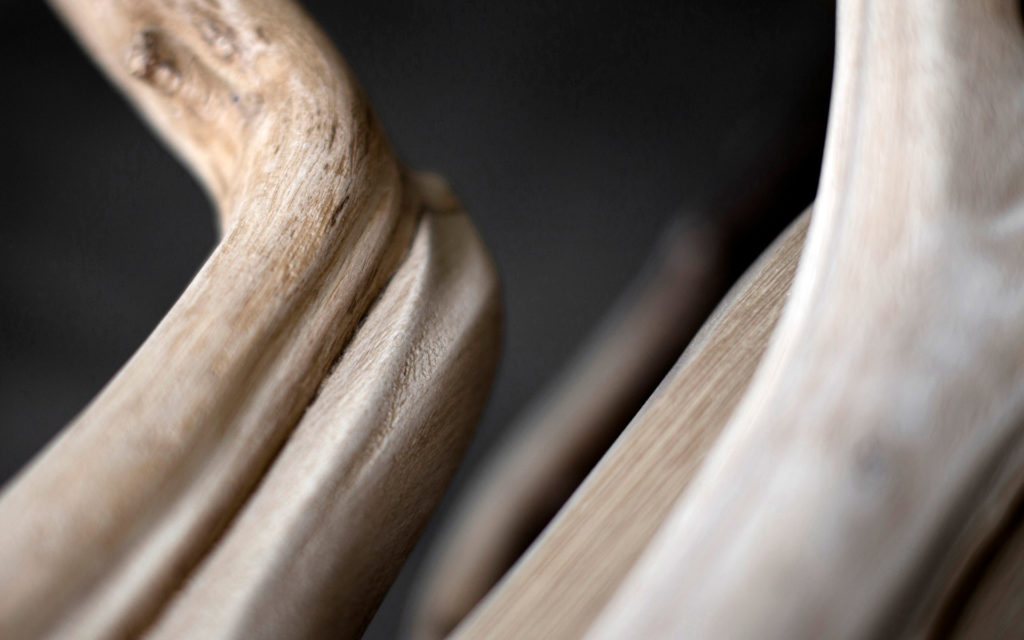 Resting horizontally on a slab of borosilicate glass, with transparent properties and three times stronger than traditional glass, from one end to the other the bench appears suspended between two lives. A natural life, symbolized by the oak branches free to dispose themselves in space, and the life of knowledge represented by the precise and delicate crafting of the seat. Assemblage and contemplation are Benjamin Graindorge's watchwords.
In fallenTree those goals have been achieved. YMER&MALTA and Graindorge have assembled before and after, the natural and the artificial. Here, in this highly engaged work, the two designers demonstrate and explore the omnipotence of humans over their environment. They invite the user to con- template and celebrate the luxury of a nature still alive, a nature now so vulnerable in the face of passing time.
Text from Cloé Pitiot, Curator at the Musée des Arts Décoratifs de Paris, for the catalogue of the 10.000 Years of Luxury exhibition at the Louvre Abu-Dhabi.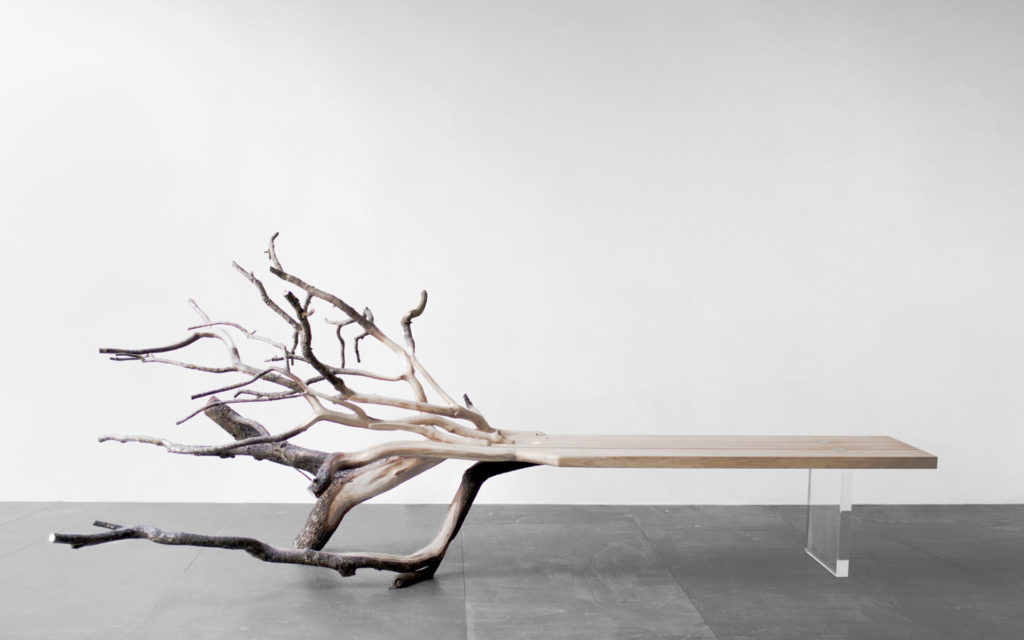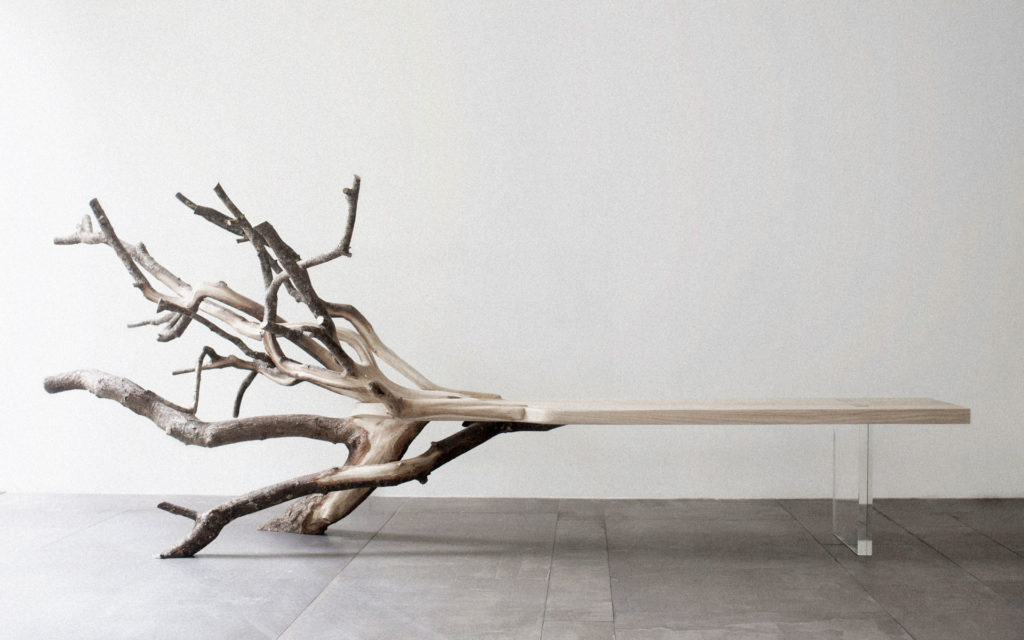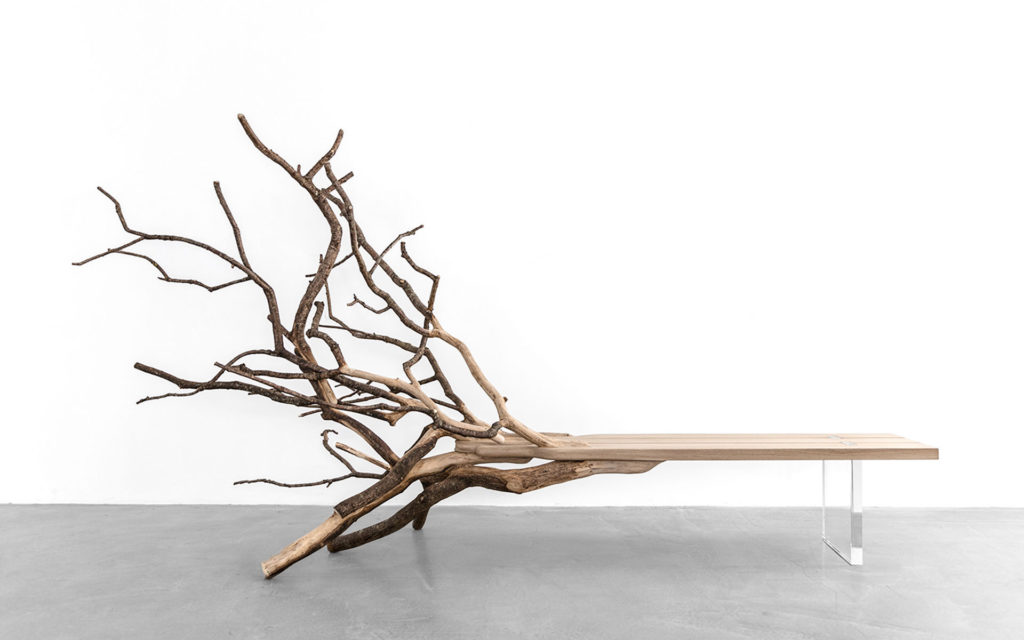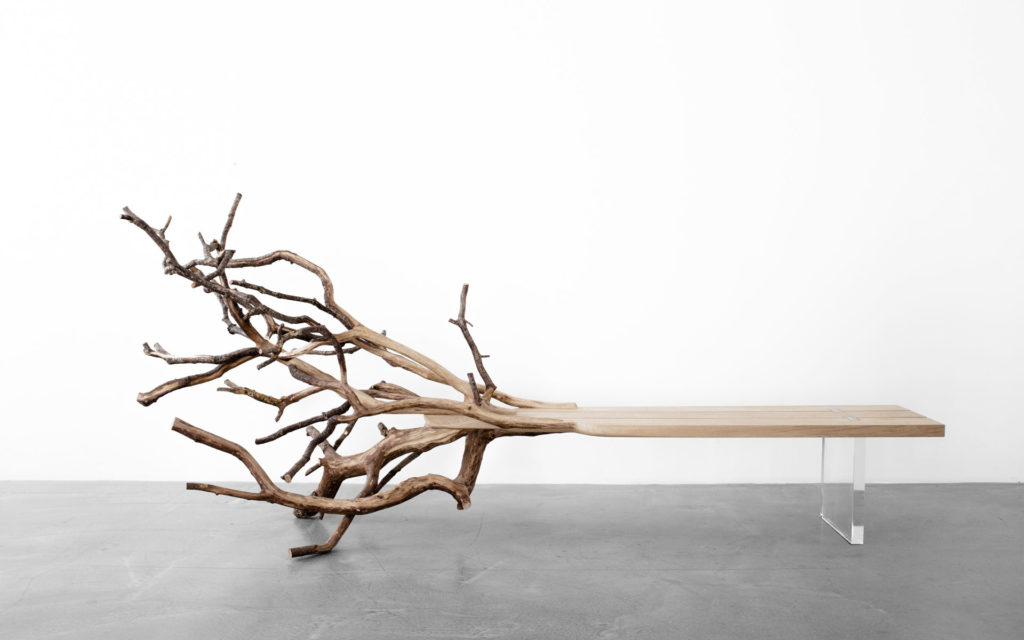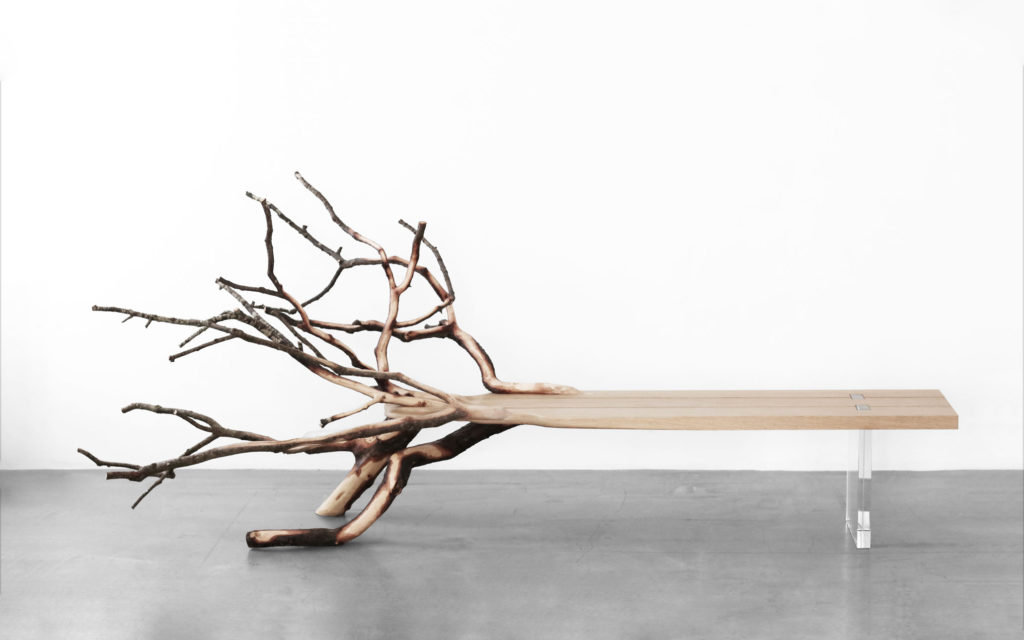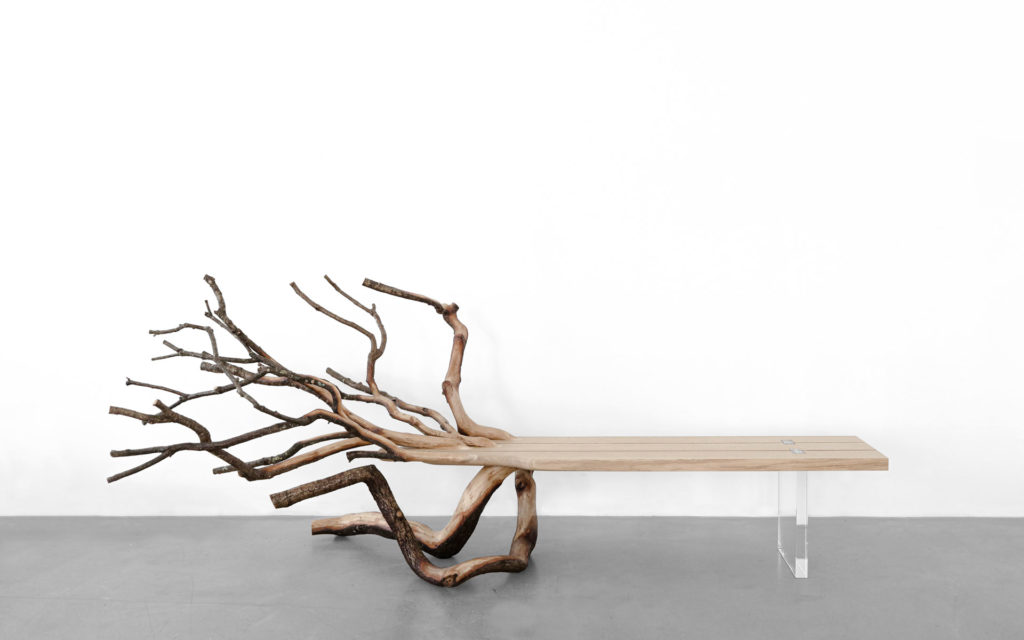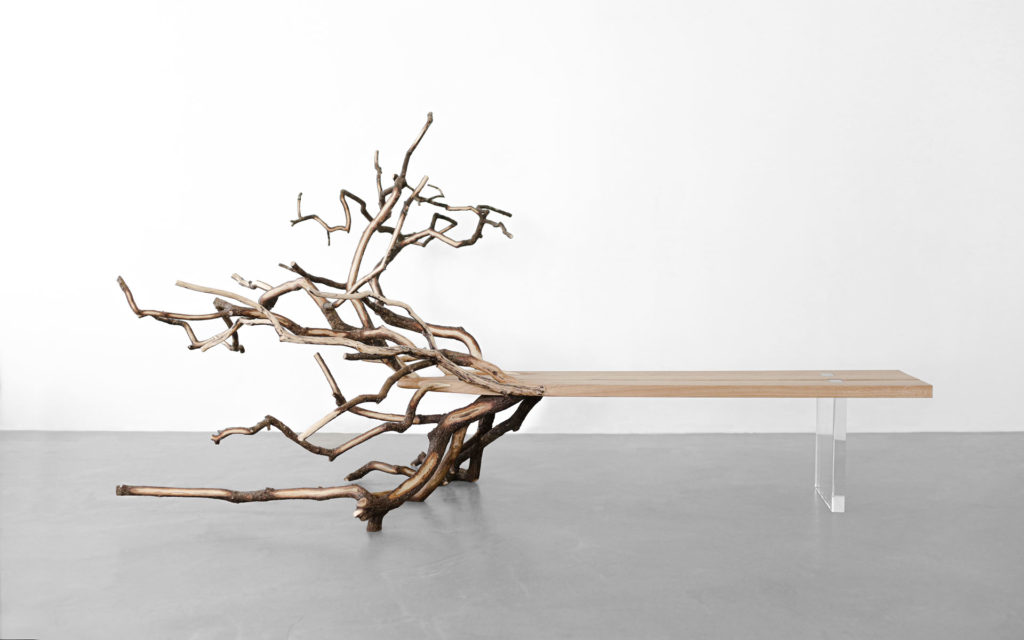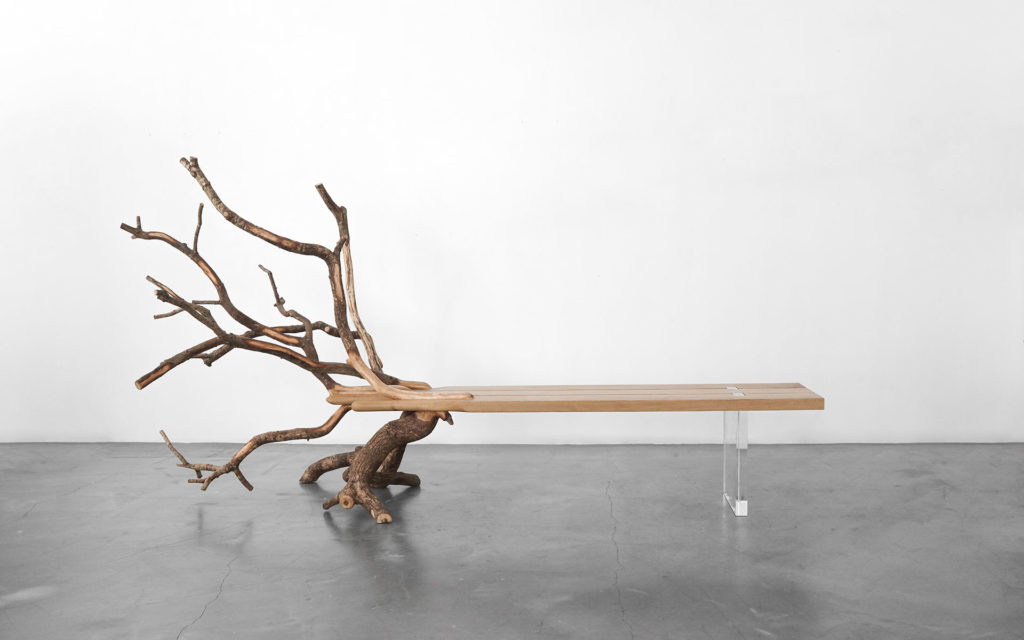 fallenTree in Museums
the fallenTree 5/12 was acquired by the Centre Pompidou, the number 7/12 was acquired by the Fondation Albertine, Cultural Services of the French Embassy in New York and the piece number 8/12 was acquired by the Musée de la Chasse et de la Nature in Paris.
– Mimesis Exhibition, Centre Pompidou Metz, 2022
– Design and Wondrous Exhibition, West Bund Museum, Shanghai, 2021/22
– Luxes Exhibition, Musée des Arts Décoratifs de Paris, 2020/21
– 10.000 Years of Luxury Exhibition, Louvre Abu-Dhabi, 2019/20
– Design et Merveilleux : de la Nature de l'Ornement Exhibition, Musée d'Art Moderne et Contemporain de Saint Étienne, 2019
– Design : Benjamin Graindorge and YMER&MALTA Exhibition, Musée des Arts Décoratifs de Marseille, 2018/19
– Habiter Exhibition, Le Quadrilatère, Beauvais, 2016
– Histoire d'Arbres Exhibition, Musée d'Art et d'Histoire Louis Senlecq, L'Isle Adam, 2012