vueDuCiel
Aubusson Tapestry : The Great Lady Collection
YMER&MALTA / Benjamin Graindorge
2018
« (…)A timeless, brilliant bench features a cover as if seen from above, like a hand drawn by Le Corbusier, a hand holding up a subtle, textured landscape of dark colors, fire and shadows, as the warmth of the wool contrasts beautifully with the quiet, round shapes of the base. The tapestry lands like a comfy cashmere shawl on the back of an armchair, rearranging the motif with curves and counter-curves.. (…) »
Bruno Ythier, Chief Curator at the Cité Internationale de la Tapisserie d'Aubusson
The initial inspiration for this piece was a camp. We wanted to create an installation, a small, welcoming world to get lost in, like a mountain landscape.
This piece was treated like a piece of haute-couture fashion with a pattern designed for the tapestry to fall perfectly on the bench.
« VueDuCiel celebrates the art of unstructured weaving. In order to provide even more contrast, the weaver used a number of different materials such as wool, silk, natural viscose, royal linen, cotton… The weaving is irregular and varies from one zone to another on the piece. »
Patrick Guillot, Weaver
This piece was presented at the Musée des Arts Décoratifs de Paris during Valérie Maltaverne's Chevalier des Arts et des Lettres Award ceremony.
Aubusson Tapestry and Metal
L.252 x W.223 x H.40cm
Limited Edition of 8 pieces
Acquired by the Cité Internationale de la Tapisserie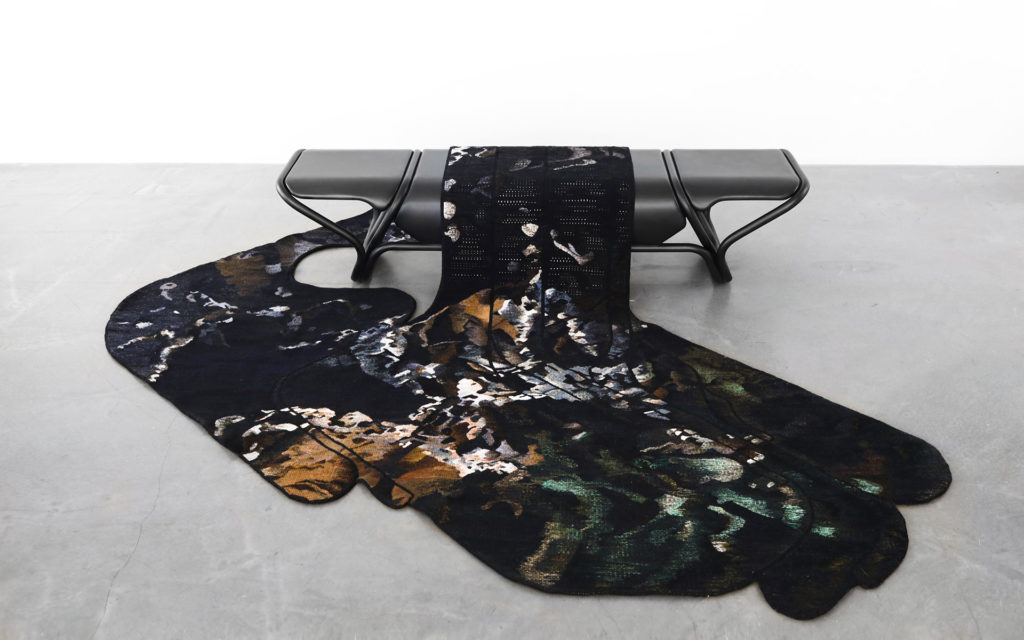 vueDuCiel is from the collection :
---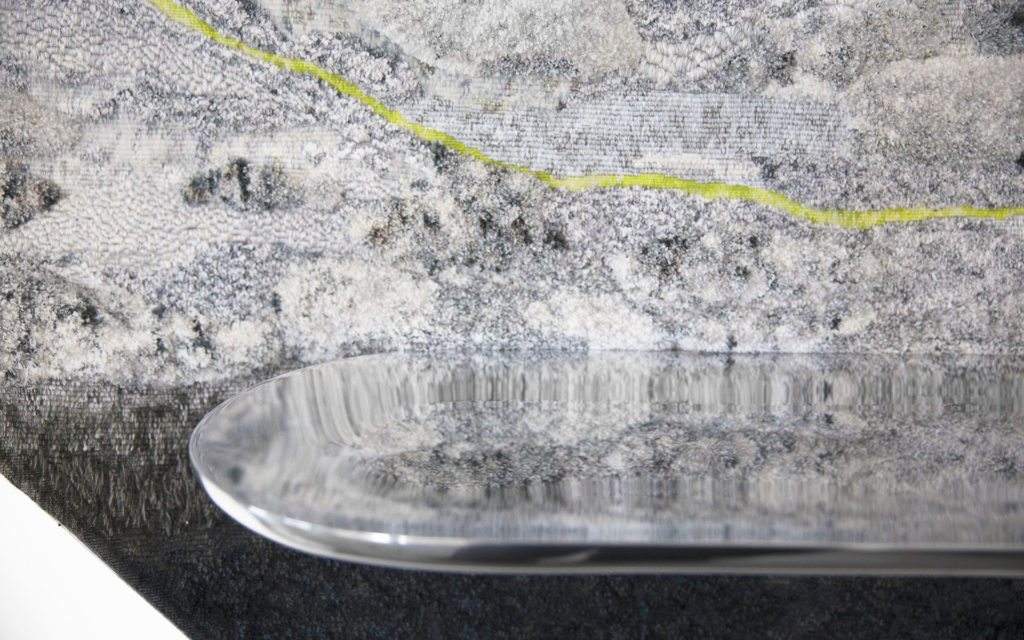 AUBUSSON TAPESTRY : THE GREAT LADY
French Aubusson tapestry, which dates back to the 16th century, is a gold standard in tapestry production and is inscribed on the UNESCO list of Intangible Cultural Heritage.
"This innovative collection, developed by the studio YMER&MALTA, is a set of seven pieces of furniture integrating Aubusson Tapestry. Valérie Maltaverne, the founder of the studio, not only has worked with her team of designers but also collaborated with the Aubusson weavers to achieve unique textures, pushing these artisans with exceptional skills to explore unknown territories of their own technique."
Emmanuel Gerard – Director at the Cité Internationale de la Tapisserie d'Aubusson
"YMER&MALTA studio did more than just mobilise and work with the immaterial heritage of Aubusson tapestry, it enriched the whole process."
Bruno Ythier – Chief Curator du Patrimoine de la Cité Internationale de la Tapisserie d'Aubusson
---
Other pieces of the collection :
AUBUSSON TAPESTRY : THE GREAT LADY
---
---
Other collections
---